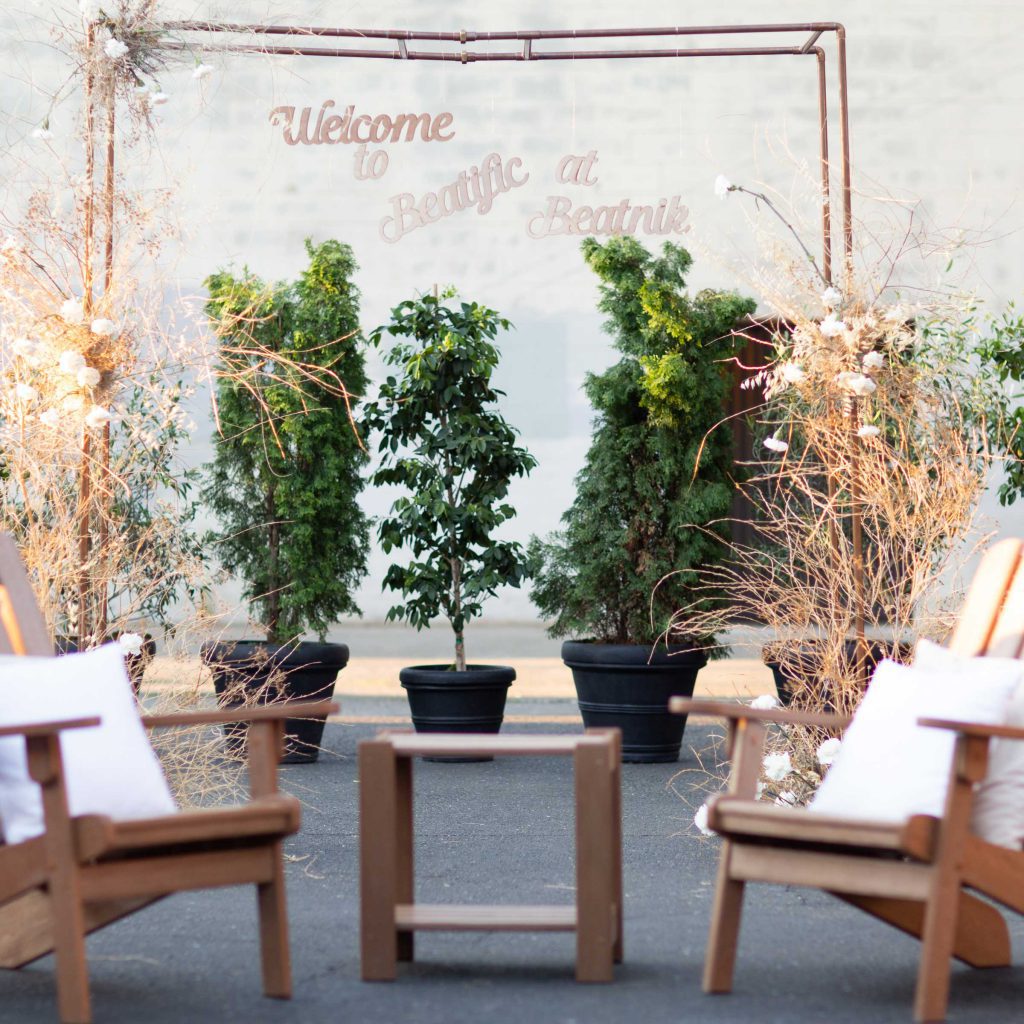 Products pictured: Wax-Leaf Pyramid, Evergreen Bush, Adirondack Chair, Adirondack Side Table, Copper Arch, Boxwood Hedge Champagne/Wine Wall. Photo by LUMI Photography.
1. Greenery Everywhere
Green plants, whether they are live or faux plants, add a natural touch to your wedding and we expect to see more of it in 2020. There are several ways that greenery can be incorporated into your wedding look, like adding them to your centerpieces, place settings, bouquet, and in any piece of decor! We have several different live plant options to choose from, including Olive Bushes, Foxtail Ferns, Tropical Palms, Leaf Shrubs, and Evergreen Bushes. We also carry an array of faux plants to choose from, including Boxwood Hedge Champagne Walls, Dividers, and Bar Facades.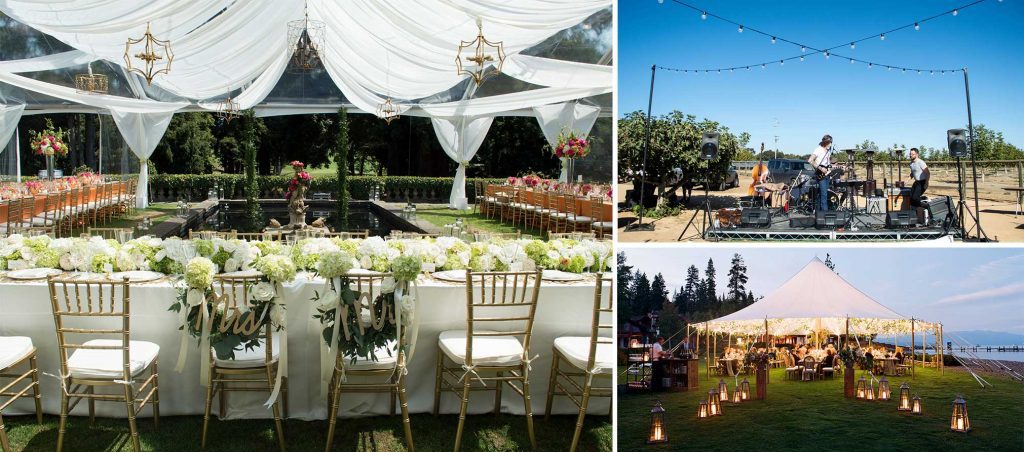 Products pictured: Echo Gold Chandelier, Gold Circle Chandelier, Market Lights, Greyson Lanterns. Photo by Joel Serrato.
2. Mood Lighting
Lighting is a key factor in pulling off any successful event, and we predict many brides in 2020 will focus on lighting to bring their venue to life. Between photographs, dining, and general ambiance, the lighting in your venue will influence not only the look but the feel of your event. Keep in mind that the vibrancy and hue of the lighting should enhance the theme of your event, and outdoor and indoor spaces have different lighting needs. And with so many lighting options, such as Market Lights, Twinkle Lights, Chandeliers, LED Uplights, Candelabras, and tealights in votives, it's always a good idea to consult one of our event professionals, who can help assess your needs and determine the best lighting solutions to set the mood for your wedding!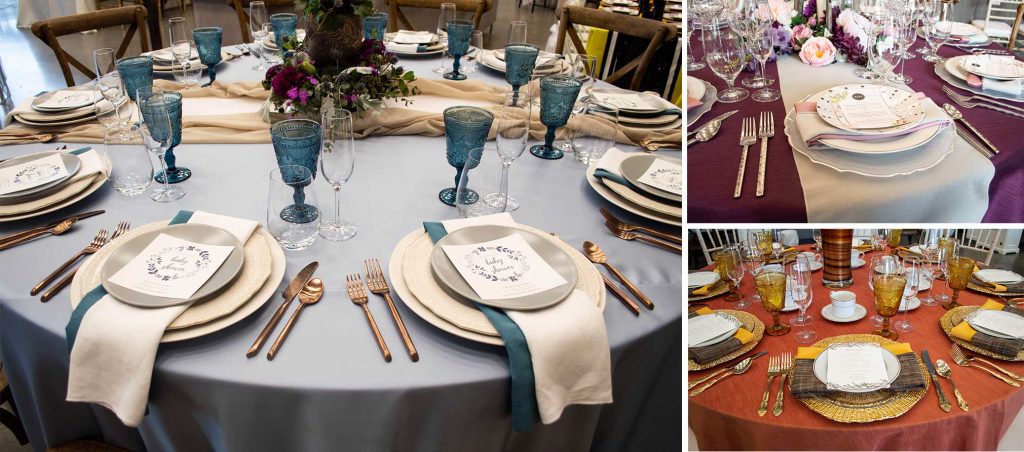 Products pictured: Satin French Blue, Linen Indigo, Linen Ivory Napkin, Peacock Dixie Goblet, Stemless Wine, Sonoma Champagne Glass, Delilah Pebble Runner, Linen Ivory Runner, Caprice Fig, Linen Carnation Napkin, Frayed Grey Napkin, Caprice Dove Runner, Metro Flatware, Grace Silver Charger, Jane Silver Dinner Plate, Kate Salad Plate, Sonoma Glassware.
3. Unique Color Schemes
In the new year and upcoming wedding season, we are expecting to see some beautiful and unique color schemes that include neo mint and faded-denim blue, along with pink, purple, and yellow. The easiest and boldest way to add color to any wedding reception is colored linens. For neo mint, check out Celadon, Linen Sea Green, or Tiffany Blue. For a faded denim look, try Satin French Blue or Linen Cobalt linens. Popular pink shades include Blossom, Satin Mauve, and Caprice Fuchsia, while our favorite purples are Caprice Fig, Amethyst, or Lavender. And to add a splash of yellow, try Buttercup, Canary, Caprice Mango, or Linen Citrus.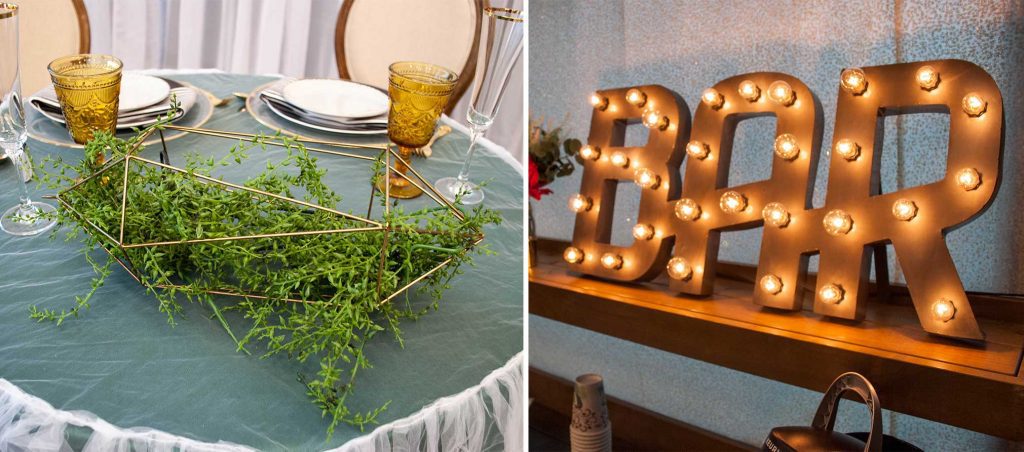 Products pictured: Metal Geo Oblong, Lighted Bar Sign.
4. Statement Décor
We predict this year's weddings will include brighter and bolder décor. Lighted signs will bring a bright and vibrant touch and help distinguish focus areas around the event. Place a lighted "bar" sign on the bar to draw attention from across the room. Add a lighted heart or lighted "love" sign on the sweetheart table to help make it stand out at the reception. Place lighted arrow signs around to help direct movement with style and flair. Lanterns are another popular statement decoration. They can add height to a table centerpiece, line the ceremony aisle, or accent areas around the venue. For a more modern look, Metal Geos are an especially versatile décor option; they can be hung from the ceiling, placed on tables, or filled with floral or plants.
 
Every little detail counts when planning your wedding day! Contact our team of event professionals to begin planning your wedding or event and get a free no-obligation quote, or start designing your tables now online with our Table Design Center.
– Kali Morra