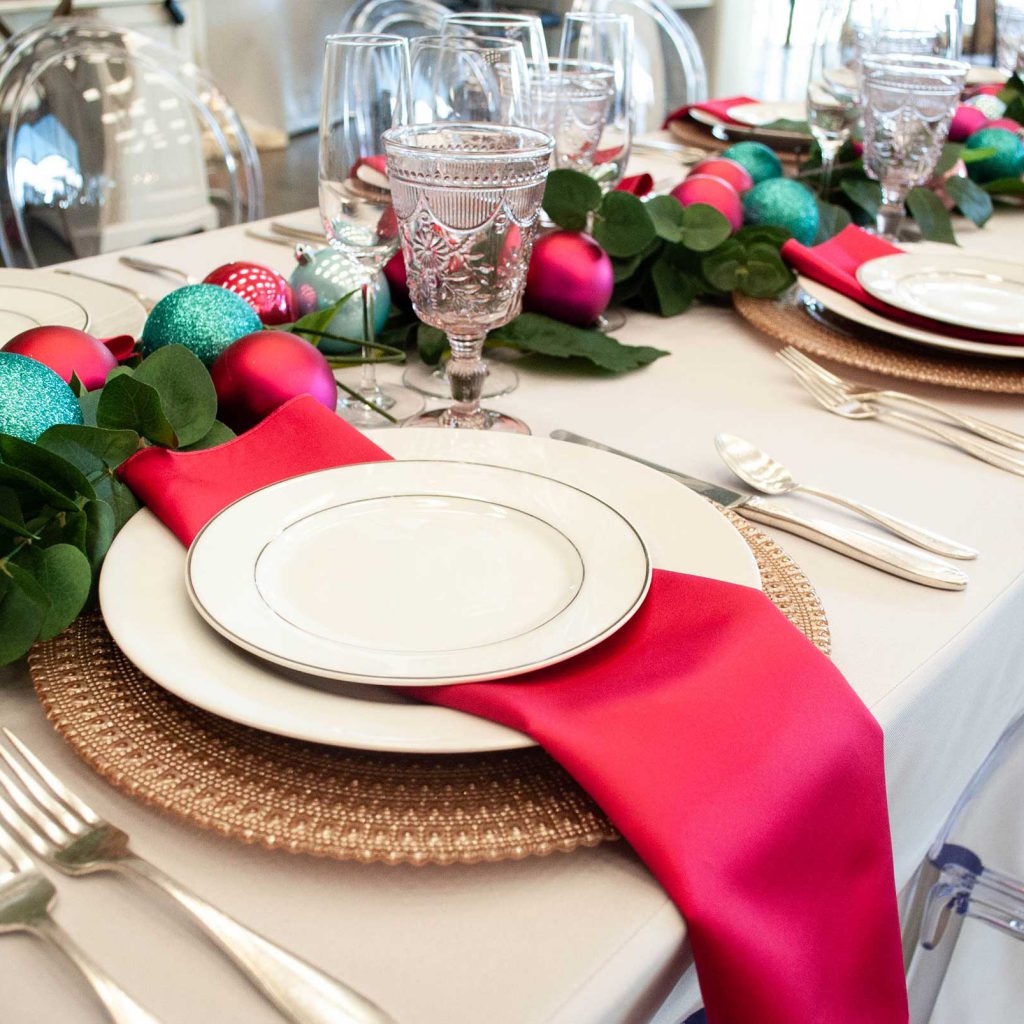 Products pictured: Satin Fuchsia Napkin, Ava Blush Charger, Lucca Ivory Dinner Plate, Jane Silver Salad Plate, Scroll Flatware, Pink Dixie Goblet, Sonoma Champagne Glass, Phantom Dining Chair.
1. Ornament Centerpiece
Disperse oversized ornaments around your table, line up smaller ones for a 3D runner, or fill up your vases or other tabletop containers with ornaments of any size or color. For a more eclectic look, grab a variety of ornaments from your own supply (all those bulbs who lost their hangers are perfect candidates) or head to a discount store to buy a case of cheap ornaments in coordinating colors.
2. Candle Centerpiece
Candles are one of the quickest ways to create a lot of holiday ambience. Place them in votives, mason jars, candlesticks, or just on their own throughout the table. Just be sure to remember fire safety tips when using real candles, or opt for LED candle lights for a safer option.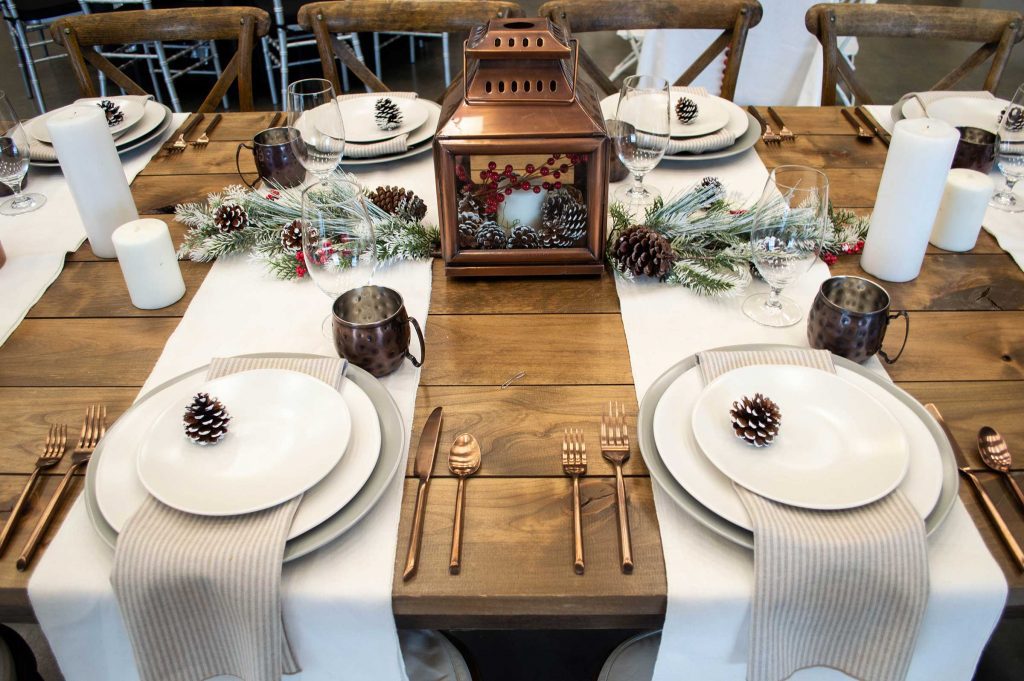 Products pictured: Walnut Stained Farm Style Table, Presley Flatware, Linen White Runner, Lucca Grey Chop Plate, Lucca Ivory Dinner Plate, Lucca Ivory Salad Plate, Copper Mug, Sonoma Water Goblet, Clooney Stripe Wheat Napkin.
3. Natural Centerpiece
One of the most cost effective décor options is using natural elements that you find in your neighborhood. Collect pine cones, tree clippings, and cranberries to create a colorful and natural centerpiece. What you create depends on what you are able to find, but some ideas include arranging pine cones on a tray with battery-powered string lights, or float fresh cranberries and pine branches in a vase filled with water.
4. Candy Centerpiece
For a sweet spin, use some colorful candy in your décor. Most discount stores will have some type of festive candy you can pick up for a low price. Just pour them into some display bowls, vases, jars, or any clear vessels that you can place on your table.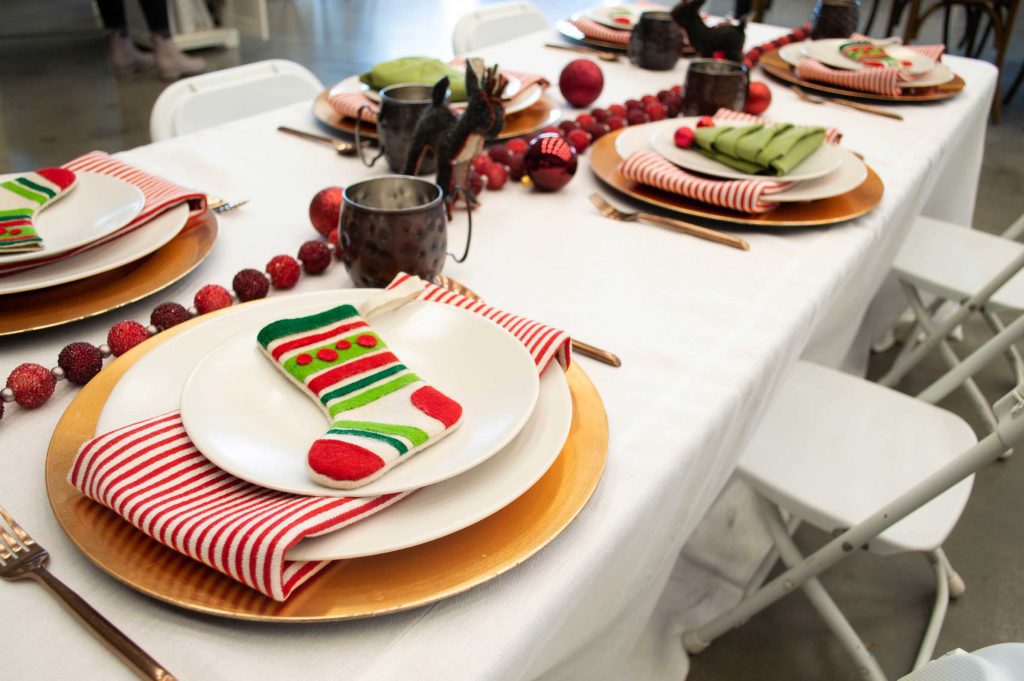 Products pictured: Linen White Table Linen, Lacquered Gold Charger, Lucca Ivory Dinner Plate, Lucca Ivory Salad Plate, Zipp Tomato Napkin, Presley Flatware, Copper Mug, White Child's Chair.
5. Garland Centerpiece
Garlands of many different styles can usually be found for a very low price at most stores around the holidays. Run them down the center of a long table or shape them around a centerpiece on a round table.
6. Vignette Centerpiece
Create a festive scene on your table with a curated vignette of all things holiday. Mini trees, Santa figurines, and themed candle holders can come together for an eclectic centerpiece, especially if you are hosting on a round table. Use a tiered tray or a cake stand to elevate your décor and make it really stand out.